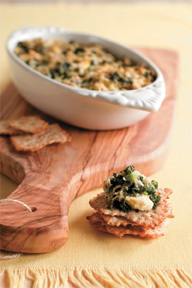 (NewsUSA)
– Spinach and artichoke dip has become a staple of social gatherings. And while its tastiness can't be denied, it's too common to truly impress guests. Wouldn't it be fun to liven up the party with more unique offerings?
Incorporating catfish can be a welcome variation to party foods. U.S. Farm-Raised Catfish possesses a light, mild flavor that lends itself to any kind of dish, ranging from spicy curries to Southern fish frys to, you guessed it, spinach and artichoke dip.
Not only does catfish provide an interesting new twist on that old standby, it also adds a sustainable source of protein and omega-3 fatty acids. For your next gathering of friends or family, try Spinach and Artichoke Dip With Catfish.
Spinach and Artichoke Dip With Catfish, Serves Four
Ingredients
:
3 U.S. Farm-Raised Catfish Fillets, baked and flaked
1 pound frozen chopped spinach, defrosted and drained
1 8.5 ounce can artichokes, drained
3/4 cup Parmesan cheese, grated and divided
1/2 cup green onions, diced
1 cup mayonnaise
2 tablespoons garlic, chopped
1 teaspoon hot sauce
Salt and pepper to taste
Directions:
1. Preheat the oven to 350 degrees Fahrenheit.
2. Squeeze excess moisture out of spinach and artichokes.
3. Combine 1/2 cup Parmesan cheese and all remaining ingredients in a large bowl. Transfer the mixture to a glass baking dish and top it with the remaining 1/4 cup of Parmesan cheese.
4. Bake for 40 minutes or until the dip is hot in the middle and looks golden brown.
5. Serve warm with your favorite crackers.
For more information and recipes, visit
UScatfish.com