By Twinomugisha Charles
Do you like Rwanda Bananas with Green Split Peas recipe? Do you know how to make Bananas with Green Split Peas? This page will show you the details about this dish in Rwanda.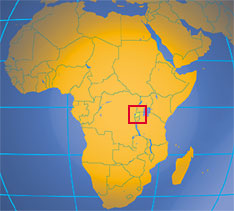 Pea soup is soup made, typically, from dried peas. It is, with variations, a part of the cuisine of many cultures. It is greyish-green or yellow in color depending on the regional variety of peas used. Pea soup has been eaten since antiquity; it is mentioned in many old books, and according to one source "the Greeks and Romans were cultivating this legume about 500 to 400 BC. During that era, vendors in the streets of Athens were selling hot pea soup. In Rwanda, its much enjoyed with Bananas commonly know as Matoke.
Ingredients to Make Bananas With Green Split Peas Recipe

*2 cup dried green split Peas, pre-soaked
*4 x ripe bananas
*1/2 tsp salt
*2 tbl palm oil, or other cooking-oil
*1 sm Onion, thinly sliced
Directions to Make Bananas With Green Split Peas Recipe

1. Cook the Peas in enough water to cover until tender, about 1 1/2 hours.
2. Peel bananas and lay them whole on top of the Peas without mixing.
3. Continue to cook for 10 minutes until bananas are soft, adding a bit of water if necessary to prevent Peas from sticking to the bottom of the pot.
4. Meanwhile, heat the palm oil in a skillet or pot large enough to hold the Peas and bananas. Brown the onions. Then with a slotted spoon, remove bananas and Peas from the first pot and add to the onions.
5. Sprinkle in the salt and continue to cook over medium heat, stirring gently but constantly, until oil has been absorbed. Serve hot.
Green Split Peas (Pisum sativum) are part of the legume family. Split Peas are husked (or dehulled) and split in half. The Green Split Pea is about ¼ of an inch wide and pale green in color. Split Peas have a mild flavor and soft texture. The Split Pea has more of an earthy flavor than the whole dried pea, similar to the lentil in versatility and nourishment.
Twinomugisha Charles is a writer who enjoys sharing his knowledge on various topics about Uganda, Rwanda, Kenya and Tanzania.More of his articles can be found at How to make Rwanda Banana with Split Peas Cooking Guide and at Rwanda Special Recipes.
African Cooking